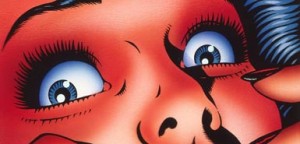 The Ghost Train, a deceptively funny thriller for six singers and instrumental ensemble,
is based on an original stage play written by Arnold Ridley in 1923. It is designed to be performed in and around abandoned railway buildings, but could also be performed in a variety of venues. What begins as melodrama—travelers thrown together by fate one stormy night at a rural railway station—turns into political allegory as the group ignores repeated warnings to leave before a legendary apparition appears, bringing destruction in its wake. Increased and more elaborately hysterical warnings to look away if the ghost train should pass keep the travelers from realizing the truth, until one of the conspirators realizes she has been betrayed. Providing a level of intimacy by being performed without a proscenium, The Ghost Train is intended to expand the operatic tradition into relevant political debate, and at the same time provoke audiences to think about venues and their meanings, their potential disappearance, and perhaps challenge them to engage with their reuse. The first performance will be the centerpiece of the Carolina Chamber Music Festival in New Bern, NC in September 2012.
The original play was turned into a movie in 1941 to help with the War effort, in an effort to cast suspicion on potential local Nazi sympathizers, and at the same time to jolly along the career of two struggling entertainers.  Streaming video http://www.archive.org/details/TheGhostTrain is available and might be used during, before or after performances.
Alongside its artistic goals, The Ghost Train hopes to present the viability of the alternative temporary concert venue as a means to reach new audiences, and to establish a functional partnership model that aligns composers and presenters with the ideals of urban revitalization. There are up to one thousand railway-related structures in New England that could benefit from and serve well as impromptu arts venues. Without a valid economic future, usually as condominiums or offices, many will be lost. A few stations have been turned into arts centers, railway museums or restaurants, but many add to the dissolution of community life by sitting vacant and unused when they could be brought to life as a temporary host venue for live music.